GABRIEL HAYNES AND THE GHOST OF DEADMAN'S BRIDGE
Suzanne Beard
This is the story of Gabriel Haynes and the ghost of Dead Man's Bridge.
If you don't know Deadman's bridge, it's the second bridge you cross as you head down Green Lanes towards the north circular.
The story dates from the time when Palmers Green was mostly countryside. In those days, London got its food for both the people and their animals from miles around. From Essex, Middlesex, Hertfordshire carts loaded high with straw made their way along Green Lanes, winding their way towards London. It took a lot longer to get to London then for there were no buses or trains and the roads were bad.
The men who drove these carts of hay were known as carters and one such carter was Gabriel Haynes - called Gibby for short. He had done the journey so many times that his old horse knew the way off by heart. The days were long and the gentle rocking of the cart meant that Gibby had got into the habit of catching a few moments rest on the return journey as night began to fall, He would draw his coat around him and fall asleep.
One chill night in early November Gibby was snoozing atop his cart. His trusty horse was drawing him towards home and the cart approached the bridge over Pymmes Brook.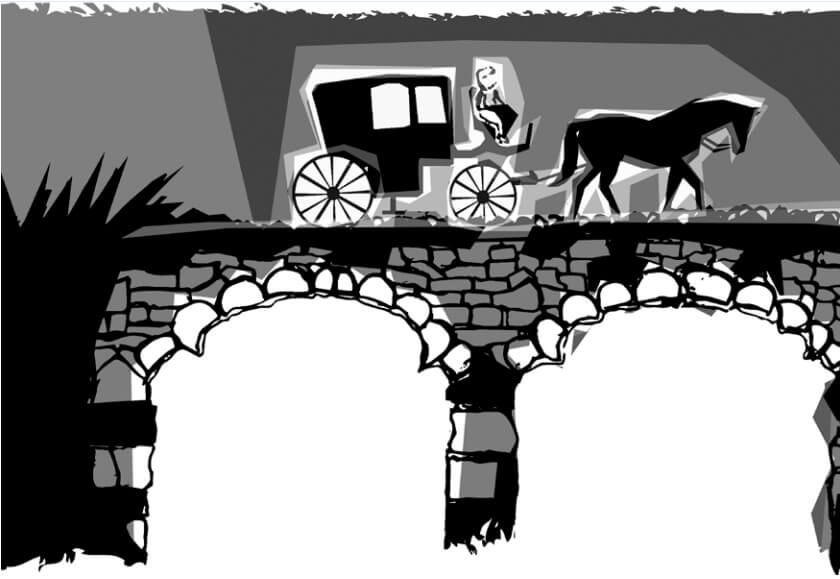 Suddenly a large black dog came running out from the side of the road!
Startled, the horse swerved to the side of the road. Thrown from the cart, Gibby was pitched onto the bank of Pymmes Brook and rolled into the water. He might have got out from the shallow waters with just some bruises but the startled, flailing horse and cart came tumbling after.
Poor old Gibby was badly hurt, trapped beneath the crushing weight of his horse and cart. He was pulled from the water and carried to the nearby Cock Inn, where he died a few hours later.
Strangely, it is not Gibby who haunts Deadman's Bridge – it is the ghost of the black dog who caused the death of Old Gibby. Its dark shape was often seen slinking through the shadows by the bridge for many years after.
It has been a long while since the ghostly form of the Black Dog was last seen – unless of course you know different.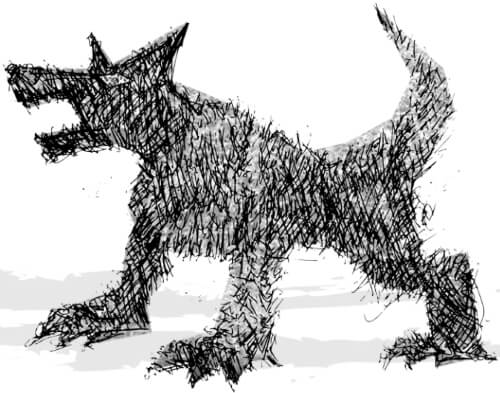 Copyright Suzanne Beard 2015 Illustrations Copyright Tony Fran 2015